.....is this the March Event / rumored product update.....??
....anticipated product announcements below in bold.......
Apple Online Store Going Down for 'Maintenance' Tomorrow Morning Ahead of Rumored Product Updates
.....Apple has updated its System Status page to indicate that its online store will be "updated and unavailable" due to "maintenance" tomorrow, Tuesday, March 21, between 3:00 a.m. and 8:30 a.m. Eastern Time.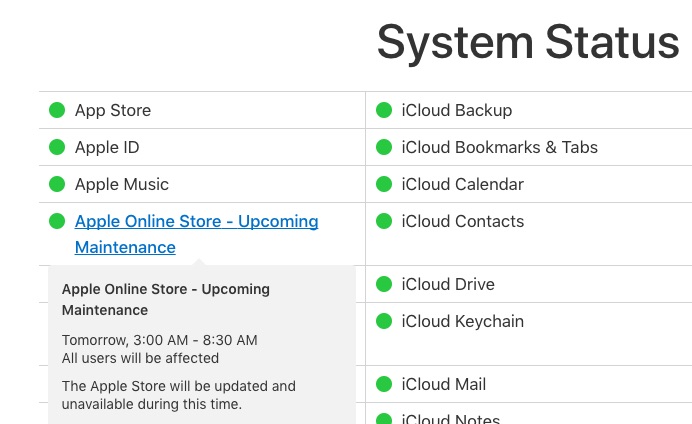 The timing of the downtime will naturally stir speculation given that Apple is rumored to launch new products as early as this week. Moreover, Apple commonly issues press releases at 8:30 a.m. Eastern Time, which is exactly when the so-called "maintenance" update is scheduled to be completed.

Last week, a well-known research firm that requested confidentiality told us that, based on their own sources, it expects Apple to announce new products later this month, most likely during this week.

The research firm did not disclose which products it expects Apple to announce, but rumors have widely suggested at least a trio of new iPad Pro models will be unveiled as early as this month, including an all-new 10.5-inch model with slimmer bezels and updated 9.7-inch and 12.9-inch versions.

At this point, it remains unclear if the 10.5-inch iPad Pro is ready, which could delay its introduction until a future Spring event or WWDC 2017. However, a press release would be appropriate for the more iterative updates expected for the 9.7-inch and 12.9-inch models, along with any other smaller announcements.

Given that it is already March 20, and that Apple usually invites the media to its launch events at least 10 days beforehand, an update to its online store accompanied by a press release is likely at this point if new products are imminent.

Japanese blog Mac Otakara said Apple will host a March event to debut its new iPad Pro lineup, a larger iPhone SE model with 128GB storage, new Apple Watch bands, and a red color option for iPhone 7 and iPhone 7 Plus, but this rumor is looking increasingly unlikely with only 11 days remaining in March.

Apple recently redesigned its System Status page to provide more granular details about the statuses of its services, so there is no precedence for it foreshadowing new product announcements this way. In saying that, it is certainly possible that the downtime will indeed be related to maintenance and nothing else.
this could be it.............until it isn't............?!
---
____________________________________________________
I reject your reality and substitute my own!
Edited 2 time(s). Last edit at 03/20/2017 11:33AM by NewtonMP2100.