OOps, Turtles In The Soup!
[
apnews.com
]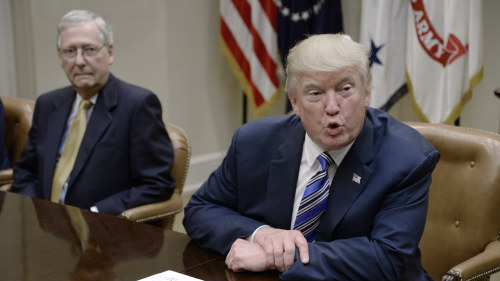 "I hired his wife. Deal's a deal!"
WASHINGTON (AP) — President Donald Trump escalated a stunning feud against his top Senate partner Thursday, suggesting Majority Leader Mitch McConnell might have to think about stepping aside if he doesn't deliver on the president's agenda of health care, taxes and infrastructure.
Trump called McConnell's failure to pass an "Obamacare" repeal last month "a disgrace." Asked if McConnell should consider stepping aside or retiring, an outcome some conservatives are openly clamoring for, the president's response was far from a vote of confidence.
"Well I tell you what, if he doesn't get repeal and replace done and if he doesn't get taxes done, meaning cuts and reform, and if he doesn't get a very easy one to get done, infrastructure, if he doesn't get them done, then you can ask me that question," the president told reporters in Bedminster, New Jersery, where he is in the midst of a 17-day break from Washington.
Trump later added that he is "very disappointed in Mitch" but would be the first to praise him if legislation begins moving, once again presenting himself as a passive observer in the process rather than a dealmaker with the presidential pulpit.
There was no immediate response from McConnell's office.