Better yet if you "downgrade" the firmware to an erlier version your machine is now macrovision freee!
I picked one of these up a few months ago when they were on sale at my local Target for $42 and change.
Plays everything I have thrown at it even those pesky video files that my Mac just kind goes ??????? at, burn the file to a cd and pop it in the player and viola!
---
Aloha, Ken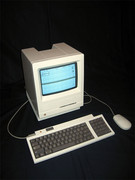 "I have developed significant attachments to several members even though I wouldn't recognize them if I sat next to one on a park bench. I'm often tempted when in an airport to walk around, hollering "The Løpe", to see if anyone other than the Homeland Security people will acknowledge me. " - The Løpe
"If there is any fixed star in our constitutional constellation, it is that no official, high or petty, can prescribe what shall be orthodox in politics, nationalism, religion, or other matters of opinion, or force citizens to confess by word or act their faith therein. If there are any circumstances which permit an exception, they do not now occur to us." Justice Robert Jackson