You have been warned!
Hours of your life may be lost in the blink of an eye as you are transported back in time... [
catalog1.lapl.org
]
Here is just one example.
---
Aloha, Ken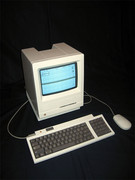 "I have developed significant attachments to several members even though I wouldn't recognize them if I sat next to one on a park bench. I'm often tempted when in an airport to walk around, hollering "The Løpe", to see if anyone other than the Homeland Security people will acknowledge me. " - The Løpe
"If there is any fixed star in our constitutional constellation, it is that no official, high or petty, can prescribe what shall be orthodox in politics, nationalism, religion, or other matters of opinion, or force citizens to confess by word or act their faith therein. If there are any circumstances which permit an exception, they do not now occur to us." Justice Robert Jackson
Edited 1 time(s). Last edit at 11/27/2006 09:45PM by Harbourmaster.