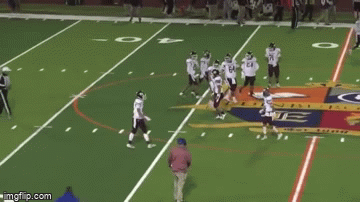 Only took him 22 days to get into a shirt and tie an issue a PR video apology to the unsuspecting ref he hit at full speed.
He will still face his criminal assault charge and possible civil litigation isn't off the table. This is on top of being banned from extra-curricular activities at the school, coaching staff punished, and his school forfeiting their playoff win.
"Finally, I would like to apologize to all the people that got offended by the video. I will work extremely hard to prove to y'all that who you saw in the video is not me."
Um, you've done it twice now ol' sport.
[
www.themonitor.com
]
With his mother and father by his side, Emmanuel Duron, the Edinburg High School football player who made national headlines earlier this month for tackling a referee who had ejected him from a game, apologized to the official, his school and teammates in a YouTube video that in less than 24 hours has already garnered more than 14,000 views.

Video capturing the incident, which occurred at the Dec. 3 high school football game pitting Edinburg High against PSJA High at Richard R. Flores Stadium in Edinburg, went viral with 3.5 million views as of Friday, prompting visceral reactions on a national level from many outraged by the high school senior's actions.

"I know much has been said about me, and I would like to say a few words today," Duron said at the onset of the video, which showed him and his parents sitting on a couch and speaking directly to the camera. "To Mr. Fred Gracia, I would like to apologize to you personally. I hope you're doing well. I am extremely sorry for my actions towards you, and I hope one day you can accept my apology."

"To my teammates, I'd like for y'all to please accept my apology for putting y'all into this bad situation and letting y'all forfeit the playoffs. I hope y'all can please accept my apology," Duron said in his video apology, in which he also expressed remorse to his parents, school officials and coaches as well as the public. "To my mom and dad, I am extremely sorry for putting them into this tough situation. I want to thank them for being there in my life and impacting me with good advice and for never letting me down. I'm sorry to the school administrators and my coaches. I'm extremely sorry for my actions and for bringing negative attention towards the district.

"Finally, I would like to apologize to all the people that got offended by the video. I will work extremely hard to prove to y'all that who you saw in the video is not me."
---
Ways to improve web conference image and sound quality. [forums.macresource.com]