'take that, HOSERS!'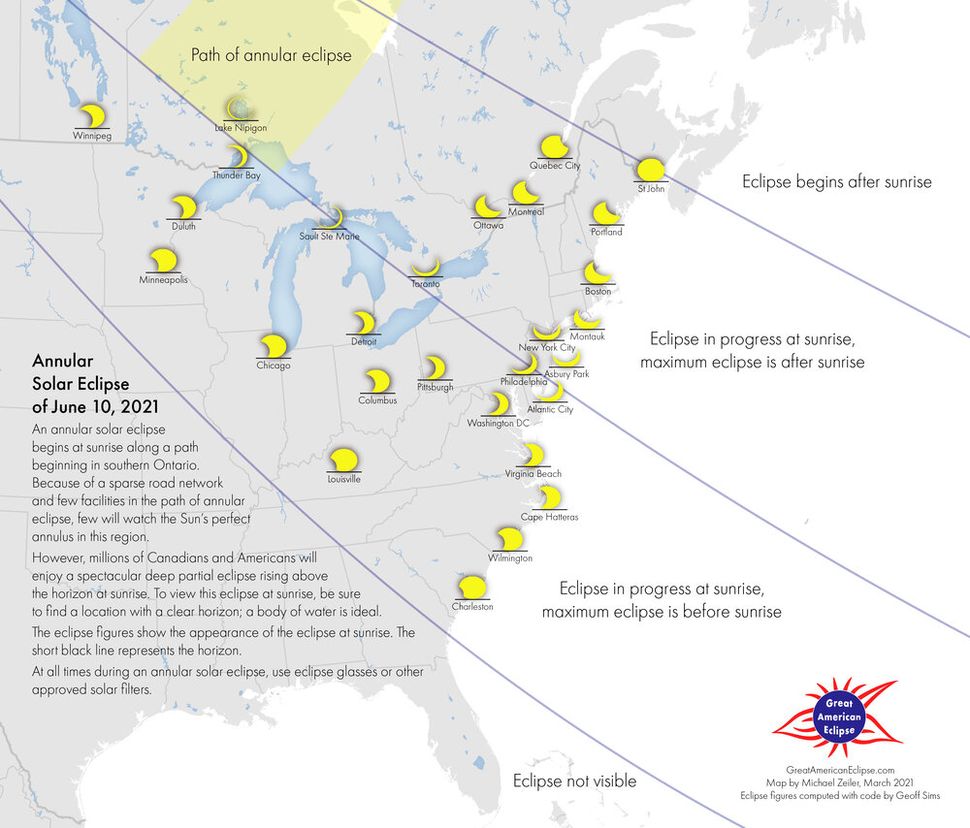 right click for full size
Only for places north of a line running roughly from Churchill, Manitoba, to Halifax, Nova Scotia, will the entire eclipse be visible from start to finish after the sun rises. Elsewhere, depending on where you are, if your sky is clear toward the east-northeast, the rising sun will appear slightly dented, deeply crescent shaped, or even ring shaped.
ear the point of greatest eclipse over the polar region, the annular phase will last up to 3 minutes and 51 seconds if you are on the centerline. Nearer the edge of the path, the duration will be shorter, and the ring will look lopsided, with one side wider than the other.
Sadly, Americans who would like to position themselves within the path of annularity will not be able to do so, thanks to the COVID-19 pandemic. The borders between the United States and Canada have been closed for over a year, and they will remain closed until sometime after this eclipse has passed into history. But even if you're not positioned within the track of the ring phase, you shouldn't get too envious, as the partial eclipse is definitely a calendar marker most everywhere from where it will be visible.
Unfortunately, for those living to the south and west of a line running roughly from Edmonton, Alberta, to Des Moines, Iowa, down through Savannah, Georgia, the eclipse will end before sunrise, so most of the southern and western United States will miss out on seeing the solar show. Places just to the north of this line will see a small scallop or bite taken out of the bottom part of the sun as it rises. The farther to the north and east one goes, the larger the bite will appear as the sun emerges into view.