Forums
| | |
| --- | --- |
| The Forum is sponsored by | |
You are currently viewing the Tips and Deals forum
Napier Backroadz 13 Series Full Size 2 Person Truck Bed Tent $101.15
Date: June 17, 2021 09:22PM
[
slickdeals.net
]
Spreetail via eBay has Napier Backroadz 13 Series Full Size 2 Person Truck Bed Tent on sale for $101.14 when you apply coupon code DADSGIFT15 during checkout. Shipping is free.

Deal Instructions:
Visit the page for Napier Backroadz 13 Series Full Size 2 Person Truck Bed Tent
Add to your cart and continue to checkout
At checkout apply coupon code DADSGIFT15
Your total will be $118.99 - $17.85 coupon code = $101.14 with free shipping
Features:
Weatherproof 3-season truck bed tent holds up to 2 adults
Will only fit the following of full-size crew cab (5.5-5.8' bed) models: Chevrolet C/K Silverado, Dodge RAM, Ford F Series, GMC Seirra, Nissan Titan, and Toyota Tundra
10-minute set up can be completed by 1 person
Offers a built-in full floor, keeping you off the truck bed and the ground
2 large windows for excellent ventilation
Full rainfly offers excellent protection from the elements
Strong fiberglass tent poles are shock-corded for easy assembly and disassembly
Spacious interior offers 5.6 feet of headroom
1-year warranty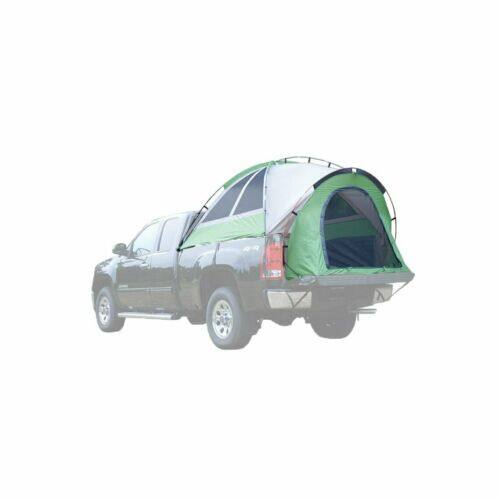 ---
Ways to improve web conference image and sound quality. [forums.macresource.com]
Re: Napier Backroadz 13 Series Full Size 2 Person Truck Bed Tent $101.15
Date: June 17, 2021 09:52PM
Re: Napier Backroadz 13 Series Full Size 2 Person Truck Bed Tent $101.15
Date: June 17, 2021 09:54PM
Re: Napier Backroadz 13 Series Full Size 2 Person Truck Bed Tent $101.15
Date: June 18, 2021 06:45AM
Re: Napier Backroadz 13 Series Full Size 2 Person Truck Bed Tent $101.15
Date: June 18, 2021 07:22AM
Re: Napier Backroadz 13 Series Full Size 2 Person Truck Bed Tent $101.15
Date: June 18, 2021 12:37PM
Re: Napier Backroadz 13 Series Full Size 2 Person Truck Bed Tent $101.15
Date: June 18, 2021 05:49PM
My wife and I camped in her Toyota long bed truck with a topper for a couple of years. The first time it rains hard you understand why sleeping off the ground is pretty cool. When I looked at the photo of the above tent, I can see where the rain fly extends over the sides of the truck bed, which is good. However, where the tent meets the back of the cab might be problematic if rainwater built up there.

Of course, there is a lot less room inside most toppers than in this tent.



---
Where is there dignity unless there is also honesty? - Cicero

Be kind, for everyone you meet is fighting a battle you know nothing about. —Wendy Mass
Sorry, only registered users may post in this forum.
Online Users
Guests: 98
Record Number of Users: 186 on February 20, 2020
Record Number of Guests: 5122 on October 03, 2020