Forums
| | |
| --- | --- |
| The Forum is sponsored by | |
You are currently viewing the Tips and Deals forum
Rectangular Inflatable Truck Bed Pool $30
Date: May 15, 2023 09:20AM
[
slickdeals.net
]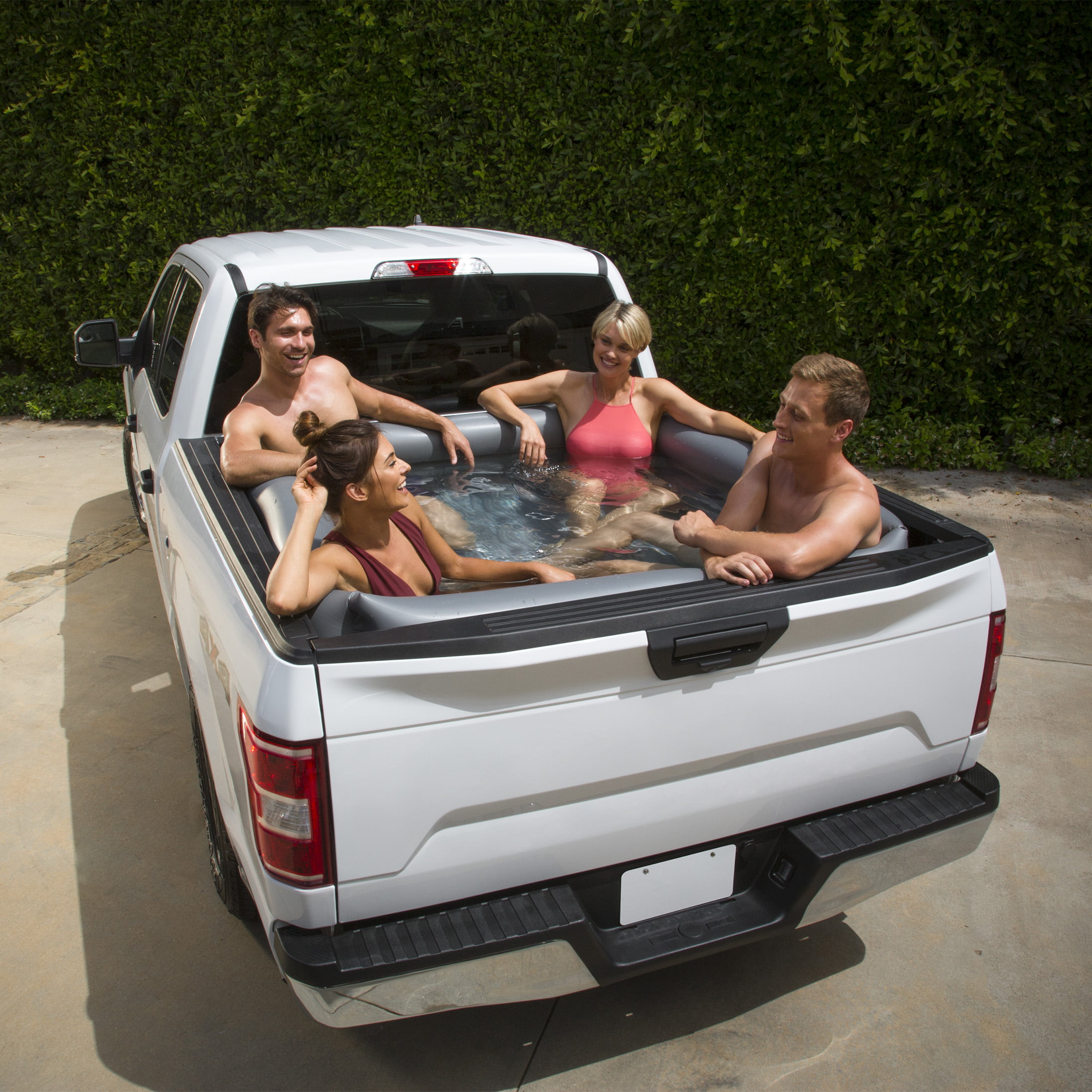 ---
Ways to improve web conference image and sound quality. [forums.macresource.com]
Phony Stark's Robot
Re: Rectangular Inflatable Truck Bed Pool $30
Date: May 15, 2023 09:40AM
Re: Rectangular Inflatable Truck Bed Pool $30
Date: May 15, 2023 09:47AM
Short beds only and you have to put jack stands under the bed. So no cruising around



---
"No persons are more frequently wrong, than those who will not admit they are wrong." -- François de La Rochefoucauld

"Those who cannot accept the past are condemned to revise it." -- Geo. Mathias

The German word for contraceptive is "Schwangerschaftsverhütungsmittel". By the time you finished saying that, it's too late
Re: Rectangular Inflatable Truck Bed Pool $30
Date: May 15, 2023 12:40PM
As noted in the comments, this holds approximately 340 gallons. Water is 8lbs a gallon. If you fill this up, you're at about 2700 lbs or twice the rated capacity of a half ton truck (F150). Not to mention the weight of the four people in it, which probably bring it up to about 3000 lbs. Good way to wreck your truck.



---
"In science it often happens that scientists say, 'You know that's a really good argument; my position is mistaken,' and then they would actually change their minds and you never hear that old view from them again. They really do it. It doesn't happen as often as it should, because scientists are human and change is sometimes painful. But it happens every day. I cannot recall the last time something like that happened in politics or religion." (1987) -- Carl Sagan
Re: Rectangular Inflatable Truck Bed Pool $30
Date: May 15, 2023 07:43PM
Re: Rectangular Inflatable Truck Bed Pool $30
Date: May 16, 2023 03:35PM
I did that with my 88 Ranger and a plastic sheet. I put Cinder Blocks under my truck to support it.



---
San Antonio, TX (in the old city)


"All that is required for evil to prevail is for good men to do nothing." - Edmund Burke
"Neutrality helps the oppressor, never the victim. Silence encourages the tormentor, never the tormented." - Eli Weisel

"To announce that there must be no criticism of the President, or that we are to stand by the President, right or wrong, is not only unpatriotic and servile, but is morally treasonable to the American public." - Theodore Roosevelt (1918)

"I don't want to see religious bigotry in any form. It would disturb me if there was a wedding between the religious fundamentalists and the political right. The hard right has no interest in religion except to manipulate it." - Billy Graham 1981

"Politics and governing demand compromise. But these Christians believe they are acting in the name of God, so they can't and won't compromise" - Barry Goldwater
Sorry, only registered users may post in this forum.
Online Users
Guests: 144
Record Number of Users: 186 on February 20, 2020
Record Number of Guests: 5122 on October 03, 2020