Praline: (whistles a bit, then) Hello. I would like to buy a fish license, please.
Postal clerk: A what?
Praline: A license for my pet fish, Eric.
Clerk: How did you know my name was Eric?
Praline: No, no, no! My fish's name is Eric. Eric fish. He's an halibut.
Clerk: What?
Praline: He is an halibut.
Clerk: You've got a pet halibut?
Praline: Yes, I chose him out of thousands. I didn't like the others, they were all too flat.
Clerk: You must be a loony.
Praline: I am not a loony. Why should I be tarred with the epithet 'loony' merely because I have a pet halibut? I've heard tell that Sir Gerald Nabarro has a pet prawn called Simon - you wouldn't call him a loony! Furthermore Dawn Pathorpe, the lady show jumper, had a clam called Stafford, after the late chancellor. Alan Bullock has two pikes, both called Chris, and Marcel Proust had an 'addock! So if you're calling the author of 'A la recherche de temps perdu' a loony, I shall have to ask you to step outside!
Clerk: All right, all right, all right. A license?
Praline: Yes!
Clerk: For a fish.
Praline: Yes!
Clerk: You *are* a loony.
Happy Birthday Eric!
---
Aloha, Ken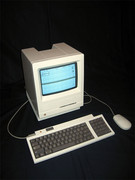 "I have developed significant attachments to several members even though I wouldn't recognize them if I sat next to one on a park bench. I'm often tempted when in an airport to walk around, hollering "The Løpe", to see if anyone other than the Homeland Security people will acknowledge me. " - The Løpe
"If there is any fixed star in our constitutional constellation, it is that no official, high or petty, can prescribe what shall be orthodox in politics, nationalism, religion, or other matters of opinion, or force citizens to confess by word or act their faith therein. If there are any circumstances which permit an exception, they do not now occur to us." Justice Robert Jackson