I was at Home Depot and on the back of a shelf behind the halogen lamp displays was an LED low voltage system with"pucks" similar to this, that could be daisy chained. Nice for under or above a counter.
Just one package with no add-on pucks. Like the package was there by mistake. Not dimmable though, iirc. Daisy chaining and flexible wire lengths (cut off extra) was nice.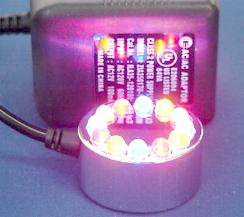 I need to repair or replace the 24" flourescent strip light over my kitchen sink.
It's ugly. It's been there since mid-sixties. I replaced the bulb and sometimes it doesn't turn on all the way. Whacking it doesn't make it turn on like tapping the bulb used to help the bulb fire up.
Need to measure if there is room for "can" lights that I can put LED lamps in, like some one else here did in their basement.