Crossing the border West Bank.
Guardian: 'innocent, unassuming Palestinian just wants to pick up some work.'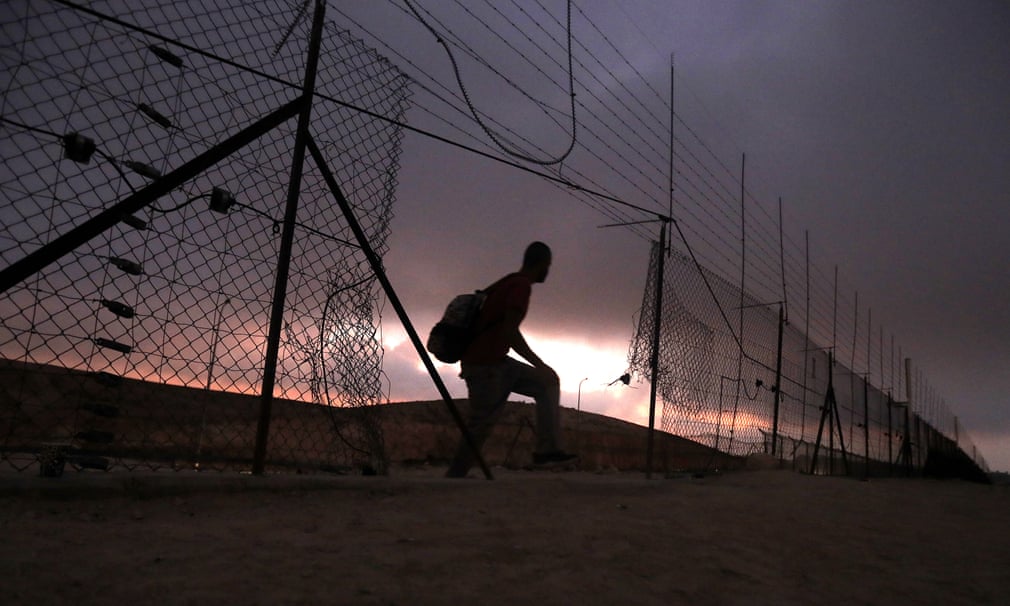 A Palestinian illegally crosses the Israeli security fence through a hole, entering Israel from the outskirts of Hebron. Reports state that many Palestinians risk their lives and cross illegally to look for work

Photograph: Abed Al Hashlamoun/EPA

Crossing the border

GAZA

: IDF says large-scale terror attack thwarted as troops prevent Gaza infiltration
Note: images and headline from Israeli paper. Reuters would never feature such photos.
[
www.reuters.com
]
JERUSALEM/GAZA (Reuters) - Israeli forces killed four heavily-armed Palestinians as they attempted to cross the Gaza border on Saturday, the Israeli military said.
"The soldiers opened fire after one of the terrorists crossed the border, and killed them," the military said on Twitter.
The men were armed with assault rifles, anti-tank missiles and hand grenades, the military said. It released photographs of the weapons laid out on the ground.
Military spokesman Jonathan Conricus told reporters the men's mission was unclear but that a large-scale attack against soldiers or civilians had been prevented.
None of Gaza's Palestinian militant groups claimed the dead men as members. Conricus said the military was trying to determine their affiliation. He said they were dressed in different uniforms and that they engaged in a gun fight with the soldiers before they were killed. No Israelis were hurt.
Gaza is ruled by the Islamist group Hamas, which has fought three wars with Israel over the past decade. Conricus said Hamas bore overall responsibility for any violence emanating from the Gaza Strip.
In Gaza, Hamas spokesman Fawzi Barhoum declined to comment on the details of Saturday's border incident but blamed Israel for the violence.
from a European source:
[
www.efe.com
]
"We just identified a number of terrorists from Gaza approaching Israel, armed with AK-47 assault rifles, RPG grenade launchers & grenades—one of which was thrown," the force posted on its official Twitter account. "Once one of the terrorists crossed into Israel, our troops opened fire," the statement added. "The terrorists were neutralized."
-
The four dead were Abdulah al-Hamayda, Abdulah al-Ghamri, Abdulah al-Masri and Ahmad al-Odeini, security sources inside the Gaza Strip told Efe.
They were all in their early 20s and members of Izz ad-Din al-Qassam Brigades, the military wing of Hamas, the sources added.
-
A similar incident that took place 10 days ago left three Israeli soldiers wounded after Hamas militia managed to enter Israel and opened fire at before being shot dead.
Edited 1 time(s). Last edit at 08/10/2019 02:33PM by Steve G..